Enlit Europe 2021
GEODE is going to #Milan!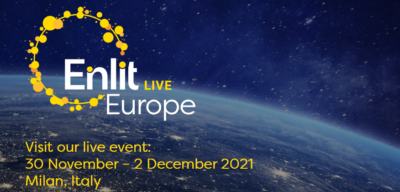 Enlit Europe – formerly the European Utility Week, the biggest and first end-to-end conference exhibition for energy professionals – is getting closer!
GEODE will be physically present at the fair with a small stand, to be used as a check point for members to meet and to disseminate information about who we are and what we do to anyone interested.
Access the full programs at the following links:
– HUBS – 'free-to-attend' sessions, oriented towards a dynamic "Q&A format"
The Hubs Sessions will tackle many interesting topics such as 'Enabling flexibility', 'Energy Data Space', 'Consumer engagement & Empowerment', 'Smart Metering Interoperability', 'Energy Communities', 'The Role of Hydrogen', and many more.
– SUMMIT – "Includes 3 stages of contrasting format – the 'Evolve Stage',the 'Inspire Stage' and 'Connect Studio' – meant to provide strategic insights and new thinking across the entire power value chain"
As a result of the fruitful and close cooperation over the past years, Enlit Europe is offering the opportunity for GEODE members to benefit from a 25% discount on the Summit passes, contact us for more information.
Exhibition registration (excluding Summit access, but including Hub Sessions) is free of charge, and you can register via this link.
We encourage you very much to inform us in case you and/or colleagues in your company/association are planning to participate at Enlit so we can plan a GEODE "joint" activity.