Energy Crisis | EU Emergency Measures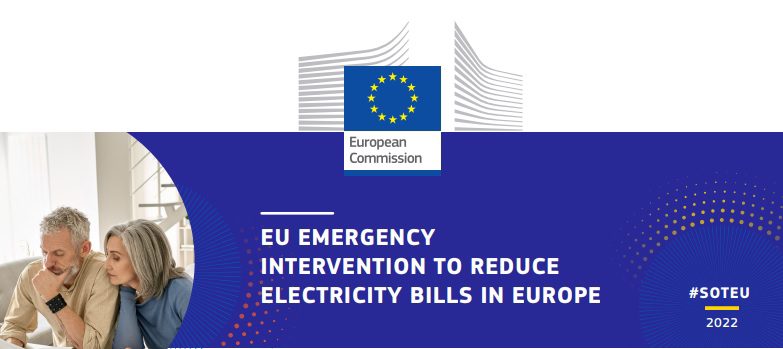 The proposal for a Regulation presented by the Commission this afternoon and consist in the following measures:
Obligation to reduce electricity consumption by at least 5% during selected peak price hours. Member States will be required to identify the 10% of hours with the highest expected price and reduce demand during those peak hours.
Voluntary reduction for Member States of overall electricity demand by at least 10% until 31 March 2023.
Capping the revenues of inframarginal electricity producers with low costs of production. The inframarginal revenue cap at €180 EUR/MWh. Revenues above the cap will be collected by Member State governments and used to help energy consumers reduce their bills. Member States trading electricity are encouraged, in a spirit of solidarity, to conclude bilateral agreements to share part of the inframarginal revenues collected by the producing State for the benefit of end-users in the Member State with low electricity generation. Such agreements shall be concluded by 1 December 2022 where a Member State's net imports of electricity from a neighbouring country are at least 100%.
Introducing a solidarity contribution from fossil fuel companies to be used to mitigate the impact of high energy prices on customers.
Temporary extension to small and medium-sized enterprises of public interventions in electricity price setting (extending the possibility currently existing for households under the Electricity Directive.
---
While mentioned as a potential measure after the Energy Council last week, a price cap on gas prices has not been eventually proposed by the Commission. In her speech von der Leyen instead proposed to set up a new task force with EU member state representatives that will attempt to negotiate deals with key suppliers such as Norway.
The measures described above will be complemented by the other ones announced by von der Leyen in her speech this morning, including:
Establishment of a more representative benchmark (instead of TTF) for gas prices. Work is ongoing at the Commission level.
Creation of a European Hydrogen Bank that will "guarantee" the purchase of hydrogen thanks to funds drawn from the EU carbon market
Address problems with liquidity in electricity futures markets amending the rules on collateral and by taking measures to limit intra-day price volatility.
Amend the temporary state aid framework in October to allow for the provision of state guarantees, while preserving a level playing field.
The Commission's President stressed that these are just the initial measures to address the crisis and confirmed a "deep and comprehensive reform of the electricity market" to decouple the dominant influence of gas on the price of electricity. This is expected early in 2023.
GEODE will continue to keep you updated you on the relevant developments on the EU's response to the energy crisis.